The Canadian real estate market continues to shimmy and shift as we head a little further into the second half of 2012. The indicators, for many, seem to be sending mixed signals. Headlines are confusing, Availability Heuristics are turning guesses and conjecture into fact, and different regions in the country are performing at opposite ends of the economic scale. Then there is the Europe mess, the US economy stuck in neutral and a lot of talk about potential conflict growing in the Middle East (again). No wonder so many are so confused right now.
BNN recently asked me to do a quick overview (you know how I love facts and details – and don't like to skim over topics, but of course air time is often limited) of how the real estate markets across Canada are set to perform in the coming months. I was honoured that they gave us a few extra minutes than a normal story because the topic is so important to Canadians. Click the video below for that segment and then watch this blog for much more detail coming soon (you know how I love them details :)).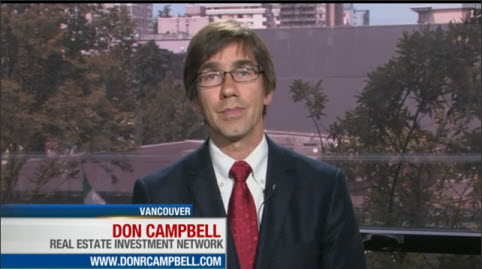 Don Campbell – BNN Business Day – July 31, 2012
You know I am neither a Bull or a Bear when it comes to the real estate markets. I wish my research to be unbiased by a preconceived belief or emotion. When the facts say there will be issues, I like to say so and when the facts say there are opportunities (hidden or otherwise) I share them. Here are a few of the main highlights given that no economic "Black Swans" wander into our world:
• Vancouver Region: Demand, affordability and the CMHC rule changes are pushing demand out to the suburbs more quickly than expected. High end market has slowed significantly in the last few months (compared to last year's frenzy). This will be reflected in an eventual shrinking of average selling price in Vancouver region.
• Calgary: A market that is performing to almost text-book perfection. We call it the 'Goldie Locks" of real estate markets. It is not too hot (yet) and not too cold (as it just was) – it is performing right in line with its underlying economic fundamentals. Watch for a jump in average selling price come 2013 as the economy, population and job growth all come together to create a perfect storm. As you see on this graphic, the green checkmarks represent steps already taken in the market fundamentals… leading to the next phase.
• Edmonton: Edmonton is headed in the same direction as Calgary, however it is moving more quickly through the real estate recovery cycle than Calgary. It is sitting about 12 12 months behind its Southern Neighbour city in terms of its position in the real estate cycle. 2013 (later in the year) looks to be a time it should outperform in relation to the real estate cycle.
• Toronto: Average selling prices are heading back to the trend line established since 1995 (Source: Toronto Real Estate Board). Prices are not the real issue – oversupply of units hitting the market in the next 18 months is more cause for concern. CMHC's rule changes will also shift the demand to lower-cost properties which will drive average prices down. Areas like Mimico, Leslieville and Emerson-Wallace are poised to continue to do well.
• Waterloo Region: We have all read the Research in Motion news – business struggles, large layoffs. Combine this with the recent rental housing licensing requirements and you have a recipe for an underperforming market. This market will be interesting to watch to see how quickly these large layoffs are absorbed by other high-tech companies. If unemployment jumps and holds for more than 6 months, you will see this directly reflected in a market underperforming to its potential. Yes, the GDP-Job Growth model of analyzing a real estate market works in reverse as well.
• Montreal: Large increase in demand for condo living and densification. The market in the suburbs is becoming more lively than the island. Keep an eye on growth in multi-unit residential starts (condos) to ensure the market doesn't build faster than demand can keep up.
• Maritimes: Halifax rents are increasing and demand is picking up noticeably. Value increases will most likely be felt in 2013 as rents continue making their upward move. Consumer confidence will be one of the biggest threats to the Canadian real estate market – tightening of lending rules (not just CMHC) and oversupply in Vancouver and Toronto will lead to decrease average Canadian sales and sale prices, which the average consumer will extrapolate (incorrectly) to their own market's performance.
However, the silver lining in this for investors is this lack of consumer confidence will lead to increased rental demand and increased rents (great news for investors) pushing rents and yields upwards in areas where population and job growth continue.
On August 24th we will be exploring some of the regions that are poised to outperform many regions in Canada and we would be honoured to have you along for the discovery. Click here for the details of this special day: REIN™ Discovery Field Trip.
Cheers and enjoy the BNN Clip!